Bright Warrior program -Upgrades - Part II

The "Bright Warrior" generation:

Centurion, Nike, Nova II, Gladium

STATEMENT AT THE DATE OF DEC.31,2277
Centurion HDN (94 units, in production), Nike BC (196 units,16 of them enlisted in the E.F.N.I., in production), Nova II DN (264 units, 8 of them enlisted in the EFNI, in production), Gladium FAV (76 units, 4 of them enlisted in the EFNI, in production)-

The upgrades of these ship classes were minimal, and this is not incidental: all these ships were designed in accordance with specifications originated by the informations of the "Damocles" dossier: in the early 2270, when all these new units were conceived and their existence became public knowledge, there was a rise of political tension within the ISA, mostly because of the Minbari concerns about the real destination of these new units: the Minbari representetive to Earthdome, Ambassador Mr.Hedroon, in 2271, in an unofficial talk with the Earth Alliance President, Mr. Roy Desmond, and with the CINC Earthforce, General Walther Ross, said "There are three possibilities: or your economy needs to waste resources in an inusitate and useless military buildup, or You have decided that the next Battle of the Line will be fought in the orbit of Minbar, or You fear something terrific; I would like to believe in the first possibility, the Gray Council is concerned by the second one, I am beginnig to be concerned by the third hypothesis."
President Mr.Desmond, backed by the reassurances of General Ross, explained that the Earth has been on the verge of destruction two times in twenty years, was still fighting against the Drakhs, and expressed the consideration that this long history of struggles for survival leaves an heavy heritage in the soul of a people, and reassured the Minbari Ambassador that nothing was conceived against the Minbari people.
The EFNI chief, R.Adm.Cellini, simply said "A tempest is coming. Against us, against You, against everyone. You must be very concerned, Ambassador, until all of us will have time and life."
A few months later the Minbari Government was informed by the ISA presidency and by the Anla'Shok of the existence of the ongoing "Damocles" Investigation about the Thirdspace Aliens.

The works on the "Damocles generation" units were the following:

1-Replacement of the WRX1028 pulse/particle turrets with the WRI2028 Ion repeater CIWS or with the WM 203 Ion twin array on all the units not yet equipped with these weapons. This upgrade enables the point defence systems/interceptor grid to match the thirdspace fighters class "3Alpha"

2-On the Nikes, replacenment of each M111 gun with a Raytheon MI190 Ion cannon.

3-Upgrade of the propulsion system of the Centurions and Gladiums with the GWR-2 Waverider II Gravitic drive. Overhaul and Upgrade of the GWR-1 "Waverider" of the Nikes.

3-On the dreadnoughts, so Centurions and Nova II, the 127mm railguns were replaced by 406mm heavy railguns - the smaller calibre weapons were used on frigates (Lupo) and cruisers (Nike).

All these upgrades were applied only to the older batches, the newer ones being directly produced with the New standard.

The GWR-II Waverider II gravitic drive allows either the Centurion heavy DN and the Gladium assault ships to attain high linear accelerations: in particular, the Gladium can reach top linear accelerations close to the Nike battlecruisers, even if it will never share the nimbleness and the maneuverability of the smaller ships equipped with the Waverider I gravitic drive. Must be considered that these two systems are the first step of the Earth technlogy in the field of the gravitic propulsion, so even if powerful and affordables, don't allow the refined field manipulation of the Minbari, Centauri, and Vree designs, or the double-cross field of the Brakiri systems. We are actually able to build only double (GWR-II) or quadruple(GWR-I) synchronized reverse Yagi array gravitic projectors, so we can obtain only unidirectional gravitational fields, and because of this the gravitic propulsion acts only in terms of acceleration along the x-axis, but does not allows control of the attitude of the ship, so the maneuverabilty of the unit is still linked with the traditional plasmajet control thrusters.

Even with this limitation , the Nikes are one of the fastest ships of the actual production of the younger races in his class of weight, and surely one of the most equilibrated designs in terms of armament, sensors and armor, while the Centurions and the Gladiums see a good improvement in their tactical capabilities.

NOTE: THE DIFFERENCES IN THE TECHNICAL SPECIFICATIONS ARE EVIDENCED - SEE THE LINKS FOR THE UNMODIFIED SHIPS.

TECHNICAL SPECIFICATIONS : CENTURION BRIGHTWARRIOR

Class: Centurion (BW)
Type: Dreadnought
Lenght: 2780 meters
Mass: 214 millions metric tons
Acceleration: 3,15 g

Power/Propulsion:
8*Westinghouse "Event Horizon-II" Gravitic Enhanced Fusion Reactors.
2*Westinghouse GRCK-1000 Gravitic Enhanced Fusion Reactors.
8*Lockheed-General Electric I-110LGE900 gravitic enhanced plasma engines.
2*Lockheed-Mitchell M185 Jump engines.
1*Lockheed-Mitchell GWR-2 "Waverider-II" Gravitic Drive.

Weapons:
2*Earthforce Arsenals Mk XIII Heavy Particle G.O.D. cannons.
12*Westhinghouse-O.T.O. Melara M381 Heavy Gravitic Fusion Pulse cannons
4*A.M.S. QSL - 4T "Equalizer" Q-spoiling Hard-Ray Heavy Lasers.
4*O.T.O.Melara 406/240 VulcanoHeavy railgun turrets.
35*Walther-Raytheon WRI 2028 Ion Pulse Repeaters.
144*"Blue Phoenix" Missiles,12*launching tubes with automatic loading.

Defense:
UNCHANGED

( For the original specifications , see Centurion )

E.A.S.SPARTAN - Centurion Class Heavy Dreadnought

TECHNICAL SPECIFICATIONS: NIKE BRIGHTWARRIOR
Class: Nike BW
Type: Battle Cruiser
Length: 1,680.6 meters
Mass: 38.9 million metric tons
Acceleration: 9.02 G
Fighter: 32 Mitchell-Hyundane SA 26-A Thunderbolt Starfury.

Power/Propulsion:
Enhancement of the Lockheed-Mitchell GWR-1 "Waverider" Gravitic Drive.

Weapons:
2*Earthforce Arsenals Mk VI-A Heavy Particle G.O.D. cannons.
6*General Electric Q-Spoiling Hard-Ray Heavy Lasers GAD 16 U "Terminator".
4*Raytheon M190 Heavy Ion Cannon twin turrets.
2*O.T.O.Melara 127/762 Heavy railgun turrets.
25*Walther-Raytheon WRI 2028 Ion Pulse Repeater Turrets.
32*Raytheon "Blue Phoenix" Missiles. 8*bow mounted launching tubes with autoloaders

Defense:
UNCHANGED
( For the original specifications , see NIKE )
E.A.S.SCORPION - Nike Class Battle Cruiser (Enlisted in the E.F.N.I.)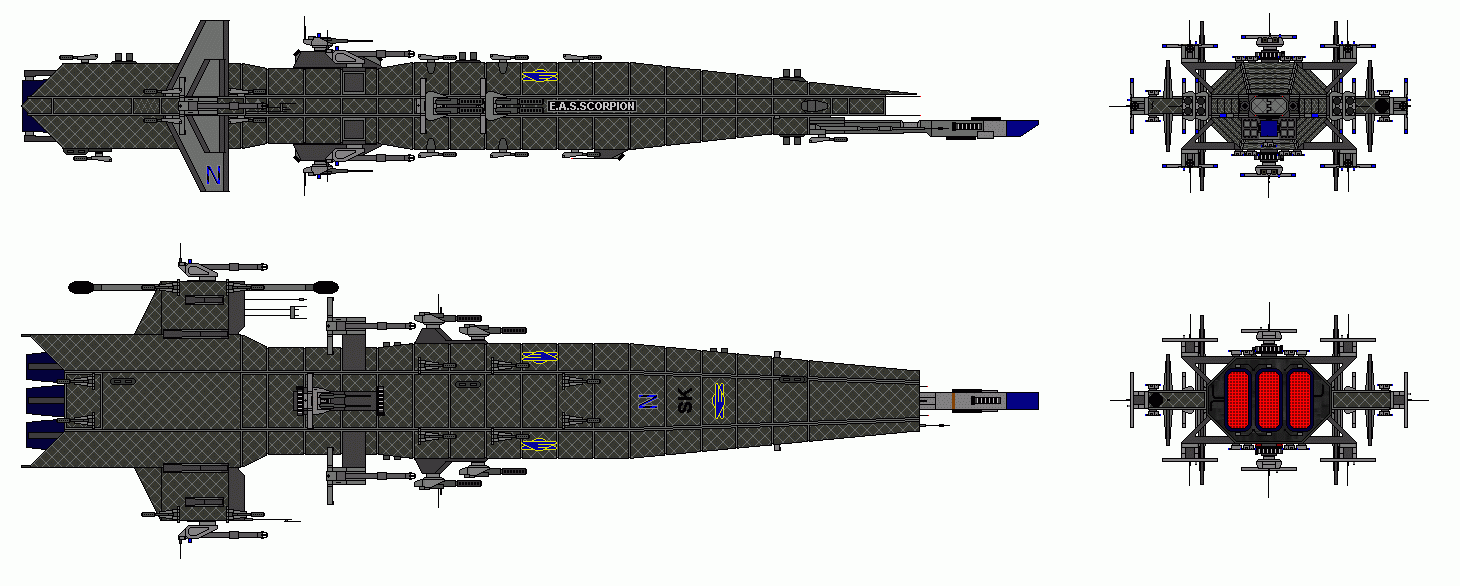 Class: Nova II
Type: Dreadnought
Length: 1,702.6 meters
Mass: 118.2 million metric tons
Acceleration: 2.97 G
Crew: 236
Fighters: 36 Mitchell-Hyundane SA 26-A Thunderbolt Starfury.

POWER/PROPULSION:
UNCHANGED

WEAPONS:
2*Earthforce Arsenals Mk IX Heavy Particle G.O.D. cannons.
12*Westhinghouse-O.T.O. Melara M381 Heavy Gravitic Fusion Pulse cannons
4*Marconi-Selenia QSL - 2T "Long Lance" Q-spoiling Hard-Ray Heavy Pulse Lasers.
2*Westinghouse-O.T.O.Melara HPM1 "Mjolnir" Heavy Plasma Mortars.
4*O.T.O.Melara406/240 VulcanoHeavy railgun turrets.
22*Westinghouse-OTO Melara WM 203 Ion pulse twin turrets.
12*Raytheon "Blue Phoenix" Missiles,6*launching tubes with automatic loading.
32*Sandia "Shillelagh" Missiles,16*launching tubes with automatic loading.
DEFENSE:
UNCHANGED
( For the original specifications , see NOVA II )
E.A.S.SCIPIO AFRICANUS- Nova II Class Dreadnought (Enlisted in the E.F.N.I.)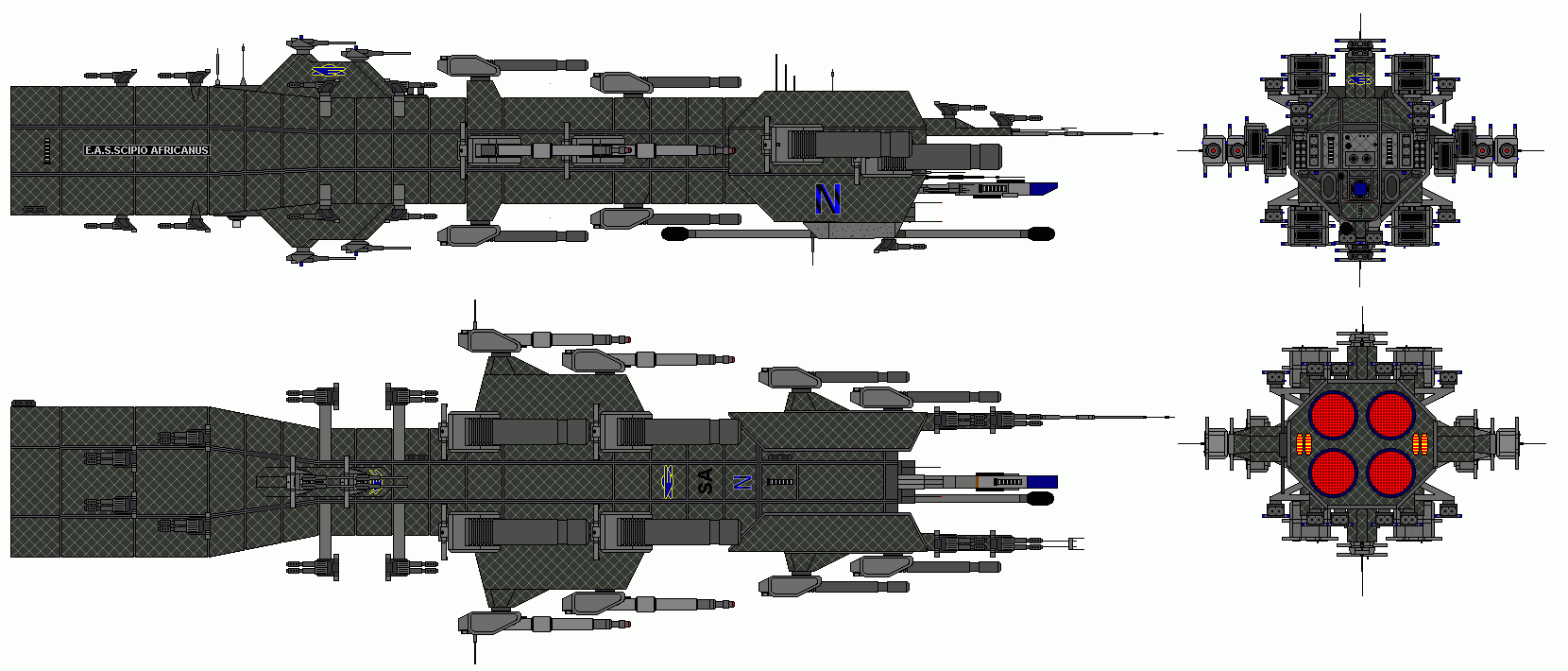 Class: Gladium
Type: Assault (Frontal Assault Vector)
Lenght: 2450 meters (2250 w/o antennas)
Mass: 172 millions metric tons.
Acceleration: 7,2 g, emergency overboost of 10+ g for 90 seconds.
Crew: 512
Troops: None
Fighters: 48 Mitchell-Hyundane SA-26A Thunderbolt Starfury or 48 Mitchell-Hyundane SA-32 Firebolt Starfury.

Power/Propulsion:
8*Westinghouse "Event Horizon-II" Gravitic Enhanced Fusion Reactors.
4*Westinghouse GRCK-3000 Gravitic Enhanced Fusion Reactors.
1*General Electric "SHIVA 1" Capacitor Bank
8*Lockheed-General Electric I-110LGE900 gravitic enhanced plasma engines.
2*Lockheed-Mitchell M185 Jump engines.
1*Lockheed-Mitchell GWR-2 "Waverider-II" Gravitic Drive.

Weapons:
1*Marconi-Selenia QSL - T1000 Q-spoiling Hard-Ray Heavy Laser.
8*Westhinghouse-O.T.O. Melara M381 Heavy Gravitic Fusion Pulse cannons
4*O.T.O.Melara 127/762 Heavy railgun turrets.
46*Walther-Raytheon WRI 2028 Ion Pulse Repeater Turrets.
60*Sandia"Shillelagh" Missiles,15*launching tubes with automatic loading.

Defense:
UNCHANGED

( For the original specifications , see GLADIUM )
E.A.S.HARPOON - Gladium Class Frontal Assault Vector (Enlisted in the E.F.N.I.)